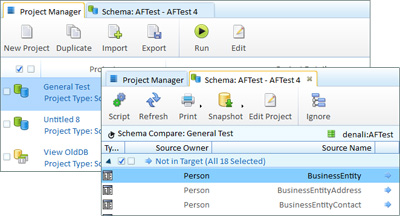 Benefits of SQL Delta
Straight forward compare and sync databases

2 years free software updates included with your purchase

Great value for money

Built in command line processing

Straight Forward
SQL Delta is a straight forward easy to use compare tool. We have made the repetitive task of comparing databases week after week easy with a built-in project manager that stores your compare projects. Ability to run multiple projects at once means once the projects are setup all you need is click a button and all your compares run at once. On completion events let you email change reports automatically or automatically deploy changes scripts.
2 year Free Software Updates
Your investment in our software is important to us and in return we believe you should receive ongoing improvements and software fixes without paying for additional support contracts. That is why we provide free software updates for 2 years as part of your purchase.
Great Value for Money
With our SQL Delta Duo products you receive schema and data compare combined in one easy to use tool and the price is a fraction of what you might pay elsewhere even for one compare tool.
Command Line Processing
Automating your compare process in itself can save you time. All versions of SQL Delta have built-in support for scheduled operation by executing a project passed into SQL Delta through the command line. Combined with On Completion events SQL Delta can perform the compare of one project, execute changes, email a report and then run another project.

Plus all of this is so easy to configure using the SQL Delta project manager.